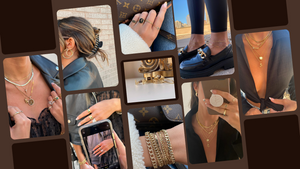 Neck Stack
Start with the basics
1. A 16" or 18" solid chain like our Xena is the perfect
base chain
2. Add a personalized necklace or a chain with a pendant, at the same length
as the base chain or 2" longer
3. Add another solid chain 2" shorter or longer than the first
4. More is always more, add another necklace 2" longer than the first,
this one is typically a chain with a hanging pendant
Step 3 & 4: More Chains and Pendants
WRIST STACK
More is More
1. Start with a thicker piece, like our Danielle or Ljena bracelets. Since this is your
first bracelet you'll want to like how it looks worn alone!
2. For your second piece, mix up the textures, opt for something like our Camilla bracelet or a personal favorite, add a
tennis bracelet like our Nora or Drita.
3. Rinse and Repeat.
Ring Stack
Never Enough
There really are no rules when it comes to rings. You can't ever have too
many rings, but there are a few staples you'll never want to take off... and
the good news is, you don't have to!
EAR stack
We're h(ear) for you
Whether you have a single piercing or multiple piercings, we've got it all.
1. Hoops are a must
2. For multiple piercings, pair hoops with other smaller hoops or huggies.
3. Everything goes.
**Books a Piercing Appointment**
View all